Meet Ruby
Ethically fashionable since 2002. We're a freshly independent, designer-owned fashion label based in Sea Point - a quirky, seaside neighbourhood in Cape Town, on the south-western tip of Africa. It's a magnificent, inspiring and cosmopolitan place.
Ruby prides herself on looking good, feeling good and doing good.
We design and produce small-batch jewellery, accessories and lingerie that are made with love, to be loved and worn with laughter, pleasure and sassiness.
Ruby is a brand that will never be tamed, pigeon-holed, mass-produced, predictable or unaffordable.
We use only premium quality - and often rare - crystals, fossils, beads, precious metals, fine chain, upcycled materials, special fabrics and components. All our items are made to order in limited quantities by a small circle of Cape Town based bead-workers, jewellers, silversmiths, metal-workers and artisans - many of whom were previously unemployed, or refugees.
We love what we do. We love experimenting with new designs, recycled materials, traditional African beading techniques and having a blast. We love the music, we love the nightlife, and we love making women feel happy, adored and adorned.
A glimpse into the Ruby Manner
Signature & Philosophy
Our signature accessory, jewellery and lingerie product lines reflect an exciting fusion of contemporary global design trends with unique African techniques, craftsmanship, materials, skills and aesthetic.
Our philosophy is to be the change by wearing it. We believe that the world is changed by our actions and deeds. We support micro enterprises, poverty alleviation strategies and social and environmental shifts. Ruby has been sustainably fashionable since 2002 and we continue to be dedicated to adding more value to the planet than we take from it. Welcome to our world - we're so happy you've arrived!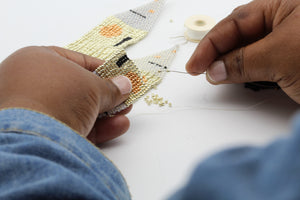 We're Hands On
Patience is an Art in today's hyper-fast world. Take a look at our latest Miró inspired earrings and see how they're made. Needle and thread. Bead by bead. The magic unfolds.