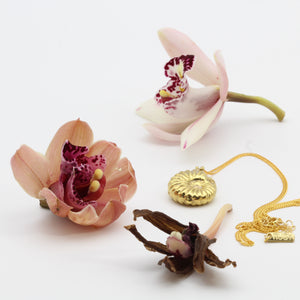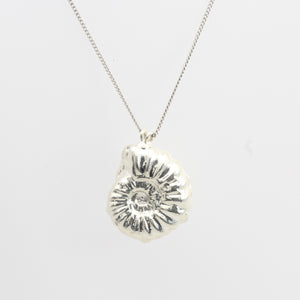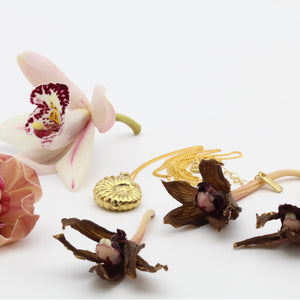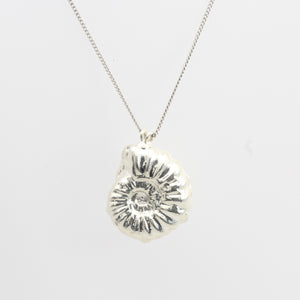 Gold and Silver dip Ammonite Amulets
Geological Jewelry
Our signature Ammonite Amulet pendants are genuine, natural fossils that are carefully hand-painted, metallized and 24k gold or silver dipped. They hang on 90cm matching chain and look great over a simple t.
About Ammonites
Ammonites are an extinct group of marine mollusc animals that lived some 245 - 65 million years ago when they roamed the open water of bygone seas. Their fossils are distinguished by magical geometrical spiral shapes that resemble tightly coiled rams horns.
As they are unlike any other existing life forms, all we know about Ammonites is what we can deduce from their fossilized remains. It is believed, for example, that they defended themselves by squirting a form of toxic ink, much like modern cephalopods (and hung-over journalists).
Their ancient remains are thought to be powerful healing fossils - the planispiral shape symbolising continual change, evolution and expansion. Indeed, they resemble our very own milky way.
As Amulets
Ammonites are said to have absorbed cosmic energy over eons of time and are believed to be powerful instruments for stimulating the life force within. They are used for activating life path energies and are believed to draw off all negative energies.
Think of the Ammonite spirals as a filter, drawing in dense energies which are no longer needed, moving them through the spirals and releasing them as life force energies.
Sourced from a prehistoric seabed, this ammonite fossil is believed to carry - and radiate - positive vibes, and enduring good luck. It works like a charm.
Materials: genuine whole Ammonite fossil millions of years old, copper dust, 24k gold or silver dipped. Each fossil is hand selected by Ruby for its graphic geological geometry and intricate design. Like snowflakes, no two ammonites are alike, but they all resemble the pendant in the pic. 90cm matching chain.