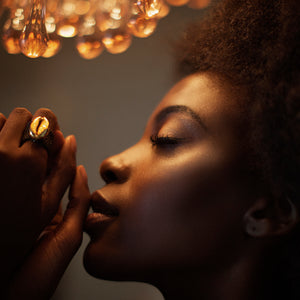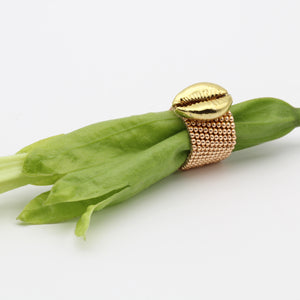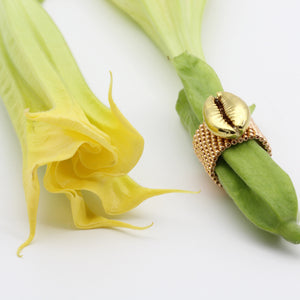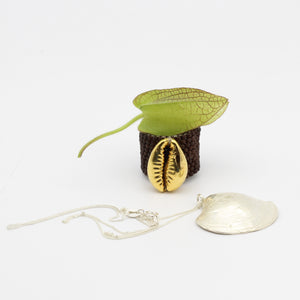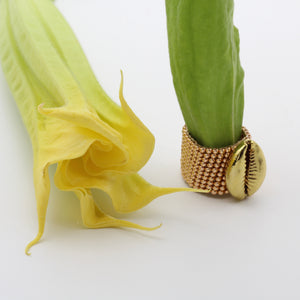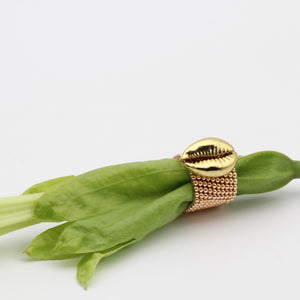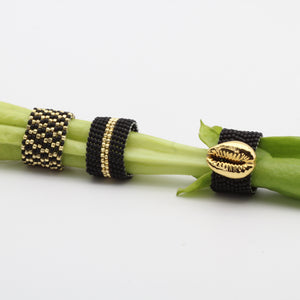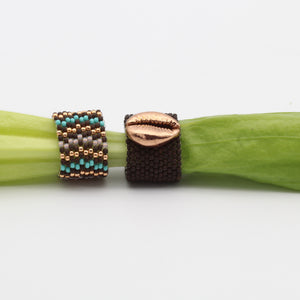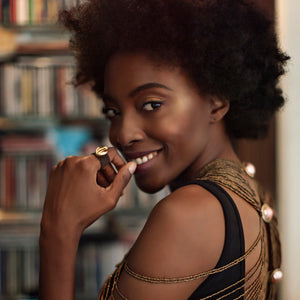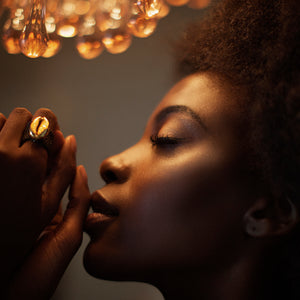 Gold Cowrie Ring
She sells sea shells...
The cowrie shell has long been a symbol of womanhood and fertility, the appearance of it's underside and lengthwise opening resembling lips, vulva or the eye.
Our cowrie shell ring starts it's journey when these natural wanders wash up on sandy African shores, are collected and then carefully 24k gold or copper dipped. We then embed these golden shells onto our signature hand-beaded ring base which comprises an intricate elasticated network of high quality Japanese seed beads.  
Hand beaded by the Ruby beading circle - our ethical fashion enterprise in Cape Town, South Africa.
Cowries were traditionally used as ancient money both in Africa and Asia. In fact, the classical Chinese character for money originated as a stylised drawing of a cowrie shell. What's even more interesting is that the term porcelain derives from the old Italian term for the cowrie shell (porcellana) due to it's similar appearance.
Cowries are gastropod mollusks meaning that they are single footed animals, much like snails. In living shells the animal lives inside the shell and a mantle or, body part with two side flaps extends over and meets on top of the shell, thus giving the shell surface it's highly polished characteristic (from all that rubbing), hence porcelain.
These intriguing natural masterpieces are also associated with fecundity, sexual pleasure and good luck. Now that you know all this, are you willing to live without these golden gastropods adorning at least one of your fingies?
Materials // Size 11 Miyuki glass beads. Hand-beaded with elasticated nylon thread. One size fits all. 24k gold dip or copper dipped real natural cowrie shell. 
We can adjust the ring size for tiny or bigger fingies, just caligraph a note for our studio, together with your order!