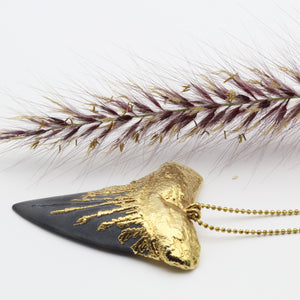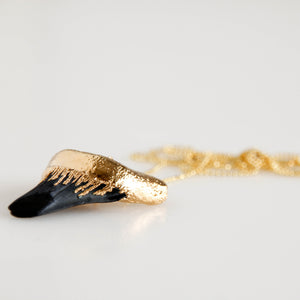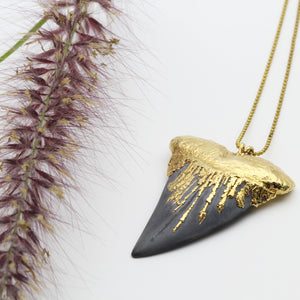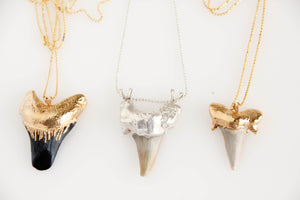 Gold dip Megalodon Shark's Tooth
Modern Day Talisman
This gorgeous gold dipped ancient fossil provides glamorous armour to protect the modern urban warrior.
Our genuine blue-black Megalodon shark's tooth fossil pendants are carefully hand painted with copper dust to metallise them, then gold plated with 24k gold. Strung on 90cm long gold-tone, skinny, faceted ball chain (or leather cord by request). This is a classic piece of power jewellery and we'll tell you why... 
More about the Megalodon
Megalodon sharks lived approximately 23 million years ago. They were the largest predator ever to live on the Earth. Their name comes from the Greek words: Megas (meaning big) + Odont (meaning tooth). 
A massive shark, reaching estimated lengths of more than 60 feet and weighing in at a colossal 60 tons, the Megalodon dwarfs most anything alive today.
The mouth of this jaw dropping creature had a potent conveyer belt of 5 rows of teeth inside it, with around 276 teeth in it's mammoth mouth at a time. It also had the genetic ability to replace lost teeth within a 48 hour turn-around time!
Extinction of the Meg
Megalodon sharks lived across the globe until around 2.6 million years ago when they became extinct due to climate change and possibly, the receding shallow, coastal waters which were home to their nurseries. The Meg was a fan of warmer waters and could not sustain when the oceans became colder during the onset of the Ice Ages.
History of Shark's Tooth Amulets
During the Renaissance, fossilized shark teeth were commonly thought to be a remedy for various poisons, and were used in the treatment of snake bites. Due to this ingrained belief, many noblemen wore them as pendants, or kept them in their pockets as good-luck charms.
The oldest known record of fossilized sharks teeth are from Pliny the Elder (23–79 CE) who believed that these strange triangular objects fell from the sky during lunar eclipses. 

The dart like shape of the shark's fossil tooth was said to offer protection and shark's teeth fossils have in fact been dug up at various ancient archeological sites. 
Why you (or a friend) may need this in your life...: To bring the energies of momentum, self-confidence, self trust and the mastering of survival into your life. Most importantly action and the enhancement of primal sense. Megalodon fossils are millions of years old and are therefore often used as a talisman for protection and long life. 
The details: Genuine Megalodon Shark's Tooth Fossil (USA origin). Each fossil is completely unique so there will be some variation. If you would like us to send you a pic of available stock so you may select your favourite hit us up via message. 24k gold dipped. Faceted, skinny ball chain 90cm - we can customise the length for you if you like! Can also be assembled on leather. Just let us know.