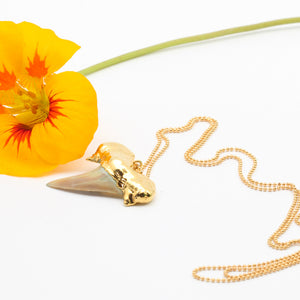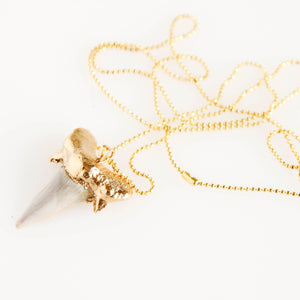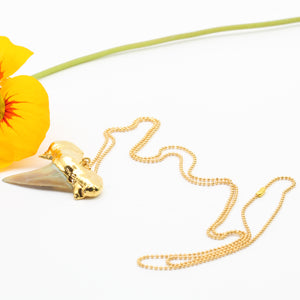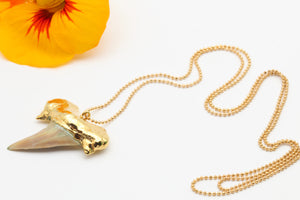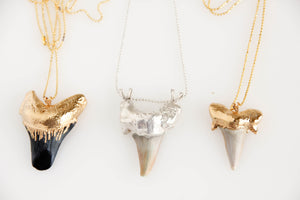 Shark's tooth Talisman pendant
An ode to Otodus...
Swimming in the murky depths of the Paleocene period, some 66-56 million years ago lived an extinct genus of Mackeral shark. The name Otodus is a combo of two Greek words: Oto meaning 'ear' and odous meaning 'tooth' coming together to mean 'ear shaped tooth'.
The Paleocene Epoch started with the mass extinction of dinosaurs, giant marine reptiles and much other flora and fauna. In layman's terms this fossilized shark's tooth is very, very old. 
Sharks continually shed their teeth, and some shed approximately 35,000 teeth in a lifetime. Shark's teeth are a common fossil in some geological formations. They provide invaluable information on shark evolution and biology, especially since the teeth are often the only part of the shark to be fossilized. (Old shark "bones" don't survive as are they composed of cartilage, and decompose quickly). 
Shark's Tooth Fossil Amulets
Our Otodus pendants are a gorgeous sandy, beige colour. Every specimen is hand selected by us, carefully painted with copper dust to metallize the surface and then 24k gold dipped.
Not only are these pendants the perfect adornment for the modern urban warrior, they also carry the energy of an ancient epoch. Preserved for so long in the silent sands of time, this pendant brings with it the energies of the shark totem - action, momentum and the mastering of survival.  Otodus fossils are millions of years old and are also used as a talisman for protection and long life. 
The details: Genuine Otodus Shark's Tooth Fossil (USA origin). Each fossil is completely unique so there will be slight variation. 24k gold dipped. They hang on skinny, faceted gold-tone ball chain. We can customise any chain length for you; if not specified we will supply at 90cm. Can also be assembled on leather cord. Just let us know.