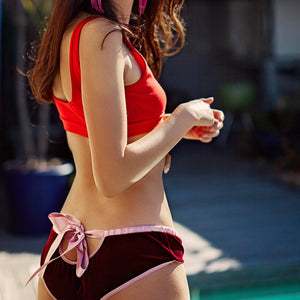 Velvet Bow Tie
Seduction, luxury and playfulness combine magnificently in our signature stretch velvet bow tie knickers.
Slip these babies on in the morning, or when dressing up for a special night out, and nothing will stand in your way – whether you keep your saucy secret to yourself, or go ahead and flaunt it.
Our very berry velvet bow tie knickers are finished with double-sided dusty pink satin ribbon.
These party-friendly knickers are hand-made in Cape Town using only the finest quality fabrics and trims.
* please note: these knickers are super popular and are currently sold out, however we do have more in production. You may go ahead and place your order here or pop us a mail. Our current lead time for production is 1-3 weeks. Thank you!