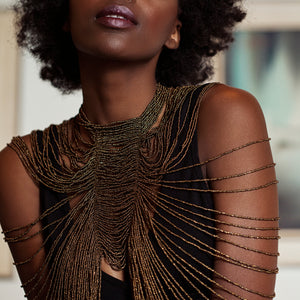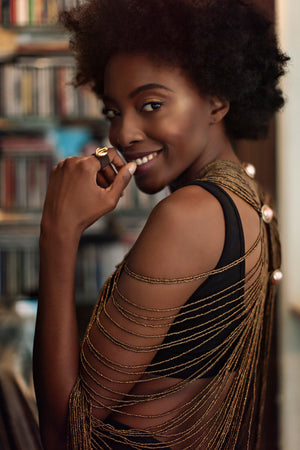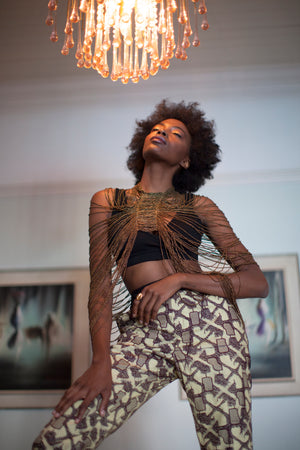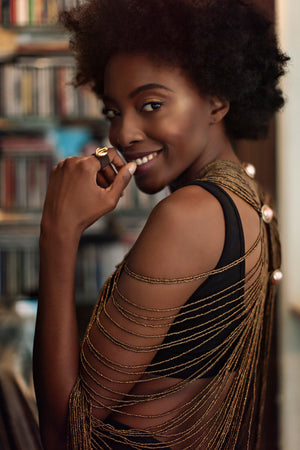 Maasai Shawl in Bronze
Ruby Beaded Shawls
Our sweeping, shoulder dusting, beaded body shawl re-interprets traditional ceremonial African beadwork. We've infused our own unique contemporary twists to create this show stopper.
This sensational adornment will take you to Burning Man and back (without even going to Burning Man). It will take you to any gala event, anywhere. Festivals - YES please!
Entirely made by hand by the Ruby Beading Circle - our in house, fair trade and ethical fashion component that's been in swing since 2002. 
Design details: central front beaded panel with buttons down the back. Narrow bands down the arms that connect to multiple beaded strands allowing the fabulous wing shape to emerge.
"Every single bead is hand woven in an intricate network and thus the microcosm becomes the macrocosm and vice versa." - Robyn Lidsky
Origins
A few years back RUBY was commissioned to produce some intricate beaded shawls for a film production of 'King Solomon's Mines'. 
Working together with the costume designers for the series being filmed we ventured forth into unchartered territory to create a series of beaded shawls inspired by Maasai body jewellery. 
Maasai Beadwork
The Maasai women in Kenya have been hand-beading intricate items for hundreds of years and beadwork plays an essential role in ornamentation and adornment. It signifies social roles and one's status within the larger community. 
Although European glass beads were readily available in East Africa from 1480 onwards, the Maasai preferred local raw materials such as clay, shells, horn, bone, brass, wood, seeds and gourds. From around the 19th century onwards brightly coloured European glass beads began to be used.
Materials: Thousands of size 11 glass beads woven with bonded nylon thread. Super fancy buttons.
Production time please allow 3-4 weeks - human hands create this item in an intimate environment. We usually have 1 or 2 of our shawls in stock - PM us to discuss! If you would like a custom colour we would love the opportunity to create this for you.