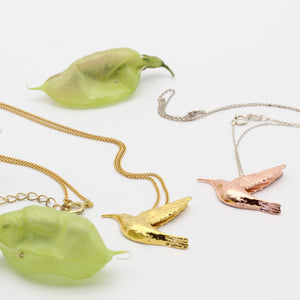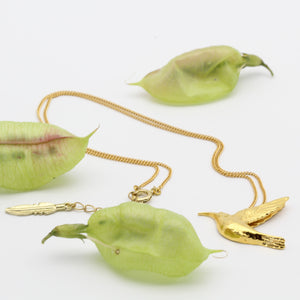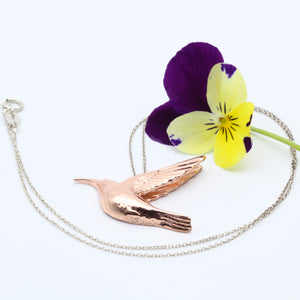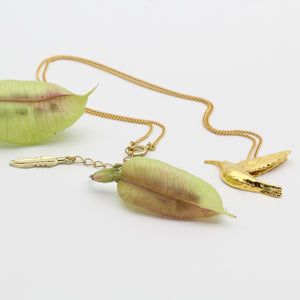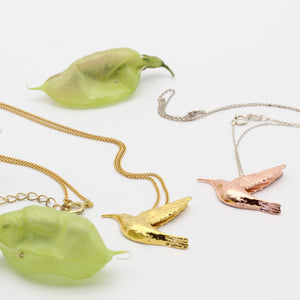 Table Mountain Sunbird
Inspiration

One of the greatest joys in my life at the moment is hearing the happy, chatty sound of Sunbirds chirping through my porch windows in the early morning.
Whenever I hear them, I grab the camera and rush to the window - hoping to catch a good view of these magnificent, but elusive creatures.
They have recently started visiting my over-planted garden - in Sea Point, Cape Town - and I've been blown away by their vivid colours, metallic sheen, startling beauty, and enchanting grace.
They are small birds, with long, thin, down-curved bills and long, agile tongues that fold into a tube - enabling them to extract the sweetest nectar from flowers.
Not surprisingly, Sunbirds are regarded as the jewels among South African birds. (Of the 105 species in the world, 70 occur in Africa.)

Sunbird charm

This Sunbird pendant has been individually cast and then either silver, 24k gold or copper plated.

Our Table Mountain Range

This striking, timeless Sunbird is part of a limited-edition collection of charms featuring flora and fauna indigenous to the Table Mountain area of Cape Town, South Africa.

Ruby presents this unique Table Mountain Range in collaboration with Sasha Leon, a Cape Town based jewellery artist. All Table Mountain charms are handmade with love in Cape Town, South Africa, and hang on 50cm sterling silver chain.