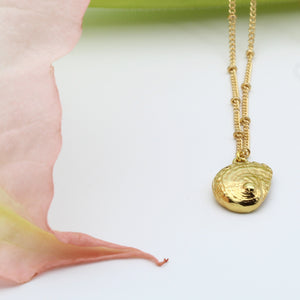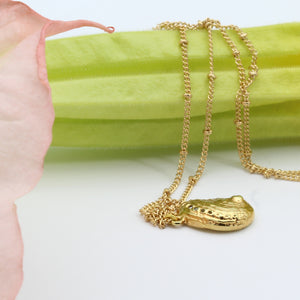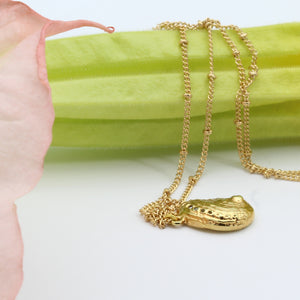 Perlemoen Pendant
There is something so deeply satisfying and pure to observe when we move the inside of a perlemeon shell in the light. Like the wings of the blue Morpho butterfly, it shares a beautiful mode of coloration: iridescence.
About Perlemoen
Perlemoen is the South African name for a species of abalone that is found on our Western Cape coastlines. It's a mollusc (sea snail) that's part of an ocean adventuring family including clams, mussels, sea slugs and octopuses. It has an ear shaped shell that's thickened with layers of mother of pearl.
Abalone are "broadcast spawners", meaning their eggs and sperm are released into the ocean and fertilisation takes place in the water. This spawning is often synchronised by full moon. A magical being. 
Abalone has come to champion the cause for marine conservation by showing the world the dangers of overfishing. It's population - both globally and locally is currently at risk of over-harvesting by humans. 
Our Perlemoen Pendant
We created this gorgeous pendant to celebrate the humble perlemoen. It's cast in sterling silver in Cape Town by our awesome women silversmiths and then 24k gold plated. Hangs on gold-tone chain 45cm. The sterling silver option hangs on sterling silver chain.