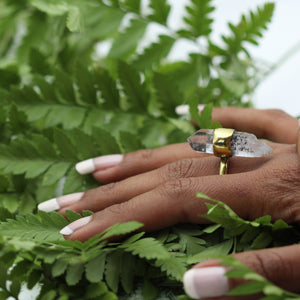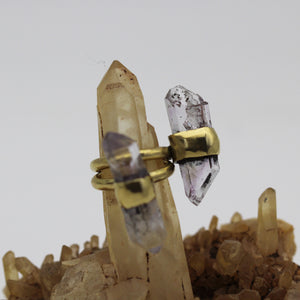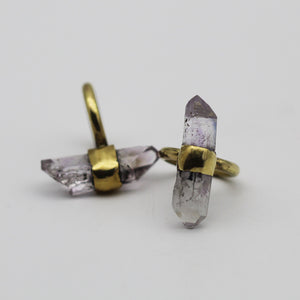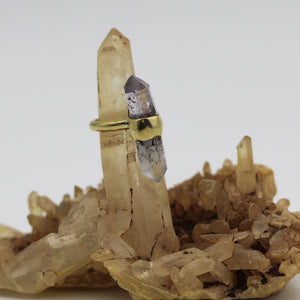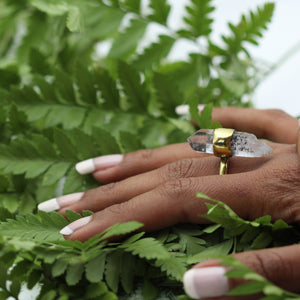 Brandberg Amethyst Quartz brass ring
Brandberg Amethyst Quartz is a sacred and rare crystal found only in the Namib desert, in Namibia. It's a mystic marriage of Amethyst, Clear and Smokey Quartz in a high vibrational crystal. Sometimes this mineral is imbued with rare formations such as phantom or ghost crystals and enhydros (water or air bubbles). It's a potent talisman of healing.
Brandberg Quartz is mined near Namibia's highest mountain - the Brandberg or 'Fire Mountain', named for the vibrant orange effects of the setting sun on it's Western slopes. From space, the Brandberg mountain forms a perfect circular shape; these mountains are a sacred site for the San tribes who lived there for thousands of years painting over 48 000 sites with their rock art.
Brandberg crystals are mined near the surface but miners need to take precaution from the dangers of the burning sun and rambling scorpions. Welwitschia, an indigenous ancient plant that dates back to the Jurassic period along with gazelles, also inhabit this other-worldly, ancient landscape.
We've used authentic Namibian Brandberg Amethyst quartz for these awesome rings. They are set in pure brass by our master metal artisans in Cape Town, South Africa. Amethyst Brandberg is known to offer profound healing, especially in matters of the heart. It is excellent for dissolving heart-break and is a useful aid in shifting soul-contracts that require expiration.
Ring sizes: please specify when you purchase: M,N,O or P!