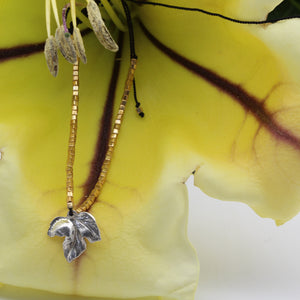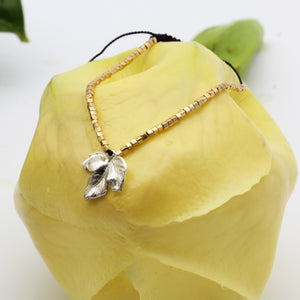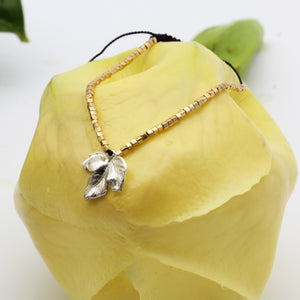 Fruit of the Vine
Vine Leaves. Not only do they make good Dolmades but, they are also deeply symbolic of new growth, fast-paced regeneration and opportunity. The vine is an opportunistic plant, constantly hooking up it's spiral tendrils and growing rapidly to fill any space. It goes with the flow and it grows where it's planted.
Our vine leaf macrame wrist bracelet is a delicate piece threaded with Japan cubes in gold together with a singular, sterling silver vine leaf charm. Black nylon thread, woven into an intricate macrame closure makes this dainty fully adjustable. Handmade in Cape Town.
 * The flower featured in our pix is a large, soft-yellow Angel's Trumpet, it's part of the Datura family. And no, we didn't take a nibble whilst shooting this baby. It's highly active Tropane Alkaloids don't mess around. We did inhale it's sweet, intoxicating, tropical nocturnal flower scent though and have never experienced a fragrance quite like this.